• Uxbridge by-election results show new resistance to Ulez and Net Zero.
• It's a populist counter-movement against assumed environmentalism.
• Ulez affects those who rely on driving, creating a sense of injustice.
​
The recent Uxbridge by-election has revealed a resistance to Ulez and broader Net Zero targets that goes beyond politics. Clive Martin, writing in the Sunday Times, argues that this counter-movement is a populist and anti-technocratic pushback against the previously assumed march towards environmentalism.
The Uxbridge election highlighted the anti-Ulez position of both Labour and the Tory parties and has empowered the pushback against Net Zero. This fight has created a counter-revolution of scepticism and conspiratorial thinking.
Prabhdeep Singh, a taxi driver and former Army dentist, was so passionate about the issue that he staged a hunger strike in Uxbridge to show what life could become like after the Ulez expansion. His statement that this is about 'all England' speaks to the feeling of injustice and interference by distant technocrats.
Ulez is a scheme that charges a levy for using diesel and petrol cars more than 8 and 18 years old respectively. When it was first introduced in inner London in 2019, it was met with discontent from certain quarters but accepted as a part of life. But in 2023, the extended reach of the scheme has made it a necessity for those in the suburbs, who rely on their cars for work, family life, and more.
The fight over Ulez has become a cultural phenomenon. It is an example of how environmentalism can be met with powerful resistance.
Two blank lines.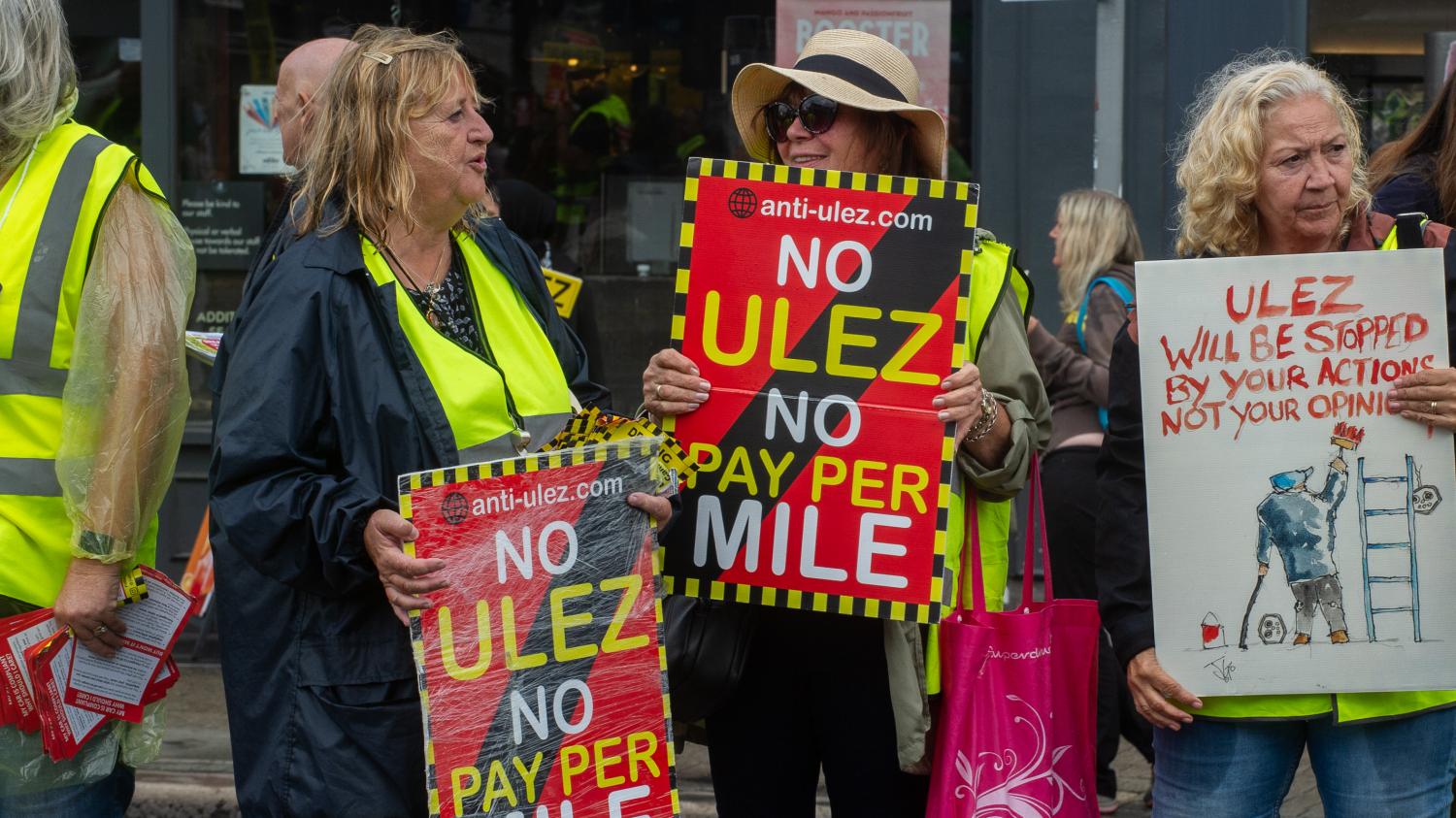 The recent Uxbridge by-election has intensified political resistance to Ulez and broader Net Zero targets. This shift isn't just political, says Clive Martin in the Sunday Times. It's a rising populist counter-movement against the assumed march towards environmentalism. Here's an excerpt:
The words Uxbridge and Ulez will forever be associated. It was in this corner of West London that the Tories inflicted a surprise by-election defeat on Labour. [Note: it was a Conservative HOLD not a GAIN.] The reason for their win? Opposition to Ulez, the ultra-low emission zone that London Mayor Sadiq Khan is proposing to extend to outer London – and due to come into force on Tuesday, despite a flurry of protests, pamphlets and legal injunctions.
The Uxbridge election sent a tidal wave through British politics, sweeping both Labour and the Tories into firmer anti-Ulez positions. It turbocharged the pushback against Net Zero. But more than that, the fight over Ulez has birthed a counter-revolution – a populist, anti-technocratic, sceptical and, at times, conspiratorial fight back against what was previously seen as a settled direction of travel, towards a greener future.
That is why it matters; these forces will not disappear when the Ulez expansion comes into force this week. Just as the capital was the birthplace of the first anti-car measures in the U.K., so it may prove to be a template for the fight back against the anti-green push back.
Earlier this month I met Prabhdeep Singh in Uxbridge. Singh, a taxi driver and former Army dentist, was five days into a seven day hunger strike against the Ulez expansion. He was not looking well. To make matters worse, his HQ (a market-style gazebo) was situated right next to a bakery and a branch of Costa Coffee. "My stomach is empty, but my spirit is full to the brim," he assured me.
The scheme itself is simple enough. Ulez (which stands for 'ultra low emission zone scheme') works by charging a £12.50 levy for using diesel vehicles more than eight years old and petrol cars more than 18.
Singh drives a private hire car and drives to Heathrow regularly, though he lives in Reading. "That's how it affects me," he said, speaking slowly so as not to expend too much energy. I asked him if he had any hope of getting through to City Hall: "The reason I'm starving is not to move Sadiq Khan, if he's not moved by the hundreds of thousands of people suffering, then one starving man in Uxbridge isn't going to either. It's a symbolic approach, to show people what life will become like."
Singh is, clearly, an extreme example of the opposition to Ulez. But his position does capture something of the movement's spirit. What drives a man to go on hunger strike just to oppose the introduction of an anti-pollution scheme? A sense of injustice perhaps. A sense of deep attachment to his car and the rights and freedoms he associates with it. And, on a deeper level perhaps, the feeling of having your daily reality interfered with by a distant technocratic chasing an eco-fantasy. "This is about how we're all going to be affected. It's about all England," Singh says. And in some ways he is right.
When Ulez was first introduced to inner London in 2019 there was a degree of discontent from familiar voices: professional motorists, lite libertarians, concerned councillors et al, but it was largely accepted as just another expense in capital life.
But in 2023, the mood is very different, and the reasons for that lie in the geography. Ulez has been extended beyond the expensive, historic centre of town and into the suburbs. This green land grab extends from Hillingdon to Hornchurch, Enfield to Erith. Which means that the scheme now encompasses parts of London where driving a car is not just a lifestyle choice, but a borderline-necessity. In these areas, people are more likely to work in trade jobs, thus relying on their car, more likely to have children, more likely to have older relatives and more likely to drive a non-compliant vehicle.